How to travel from Barcelona Airport to City Center
One of the question on many people's minds when arriving at Barcelona Airport is how to get from the Airport to the City Centre. Being about 13km from the City Barcelona El Prat Airport can be costly in a Taxi which would set you back approximately €30. There is one tip that helped us on our travels as that €30-40 can be put to so many other better things. Drinks and Tapas come to mind or even nice shirt! If you've got the luxury of a little more time and not too much luggage the easiest and cheapest way to get from Barcelona Airport to the City center is by Airport Bus. It's really simple, fast, efficient and of course....cheap! Here's some of the fastest ways for getting from the Airport to your hotel, hostel or Airbnb.
Barcelona Airport to the city by Airport Bus
The Airport Bus is one of the cheapest options and also one of the most efficient. You will get you from the airport to Plaça de Catalunya, one of the largest squares in the city in about 35 minutes.
How to find the Airport Bus
Follow the signs in the Airport which are visibly signed with the Bus symbol. Within Terminal 1 there is an escalator going to a lower floor near the rental car desks. At the end of the escalator you'll find the big blue buses visibly signed "Aerobus".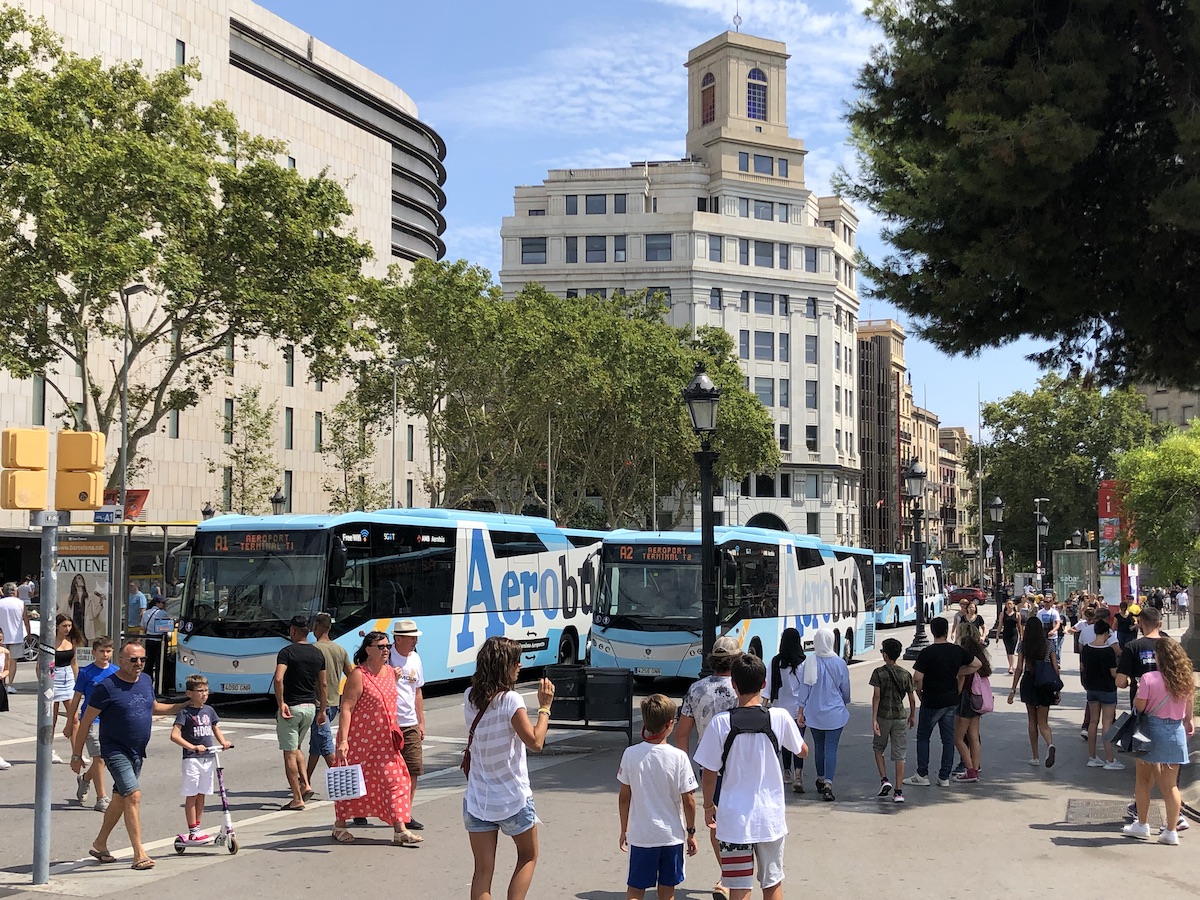 What is the cost from Barcelona Airport to the City?
The cost of the Barcelona Airport "Aerobus"bus is €5.90 for a single journey or €10.20 return (at time of writing). If buying the return ticket, the return journey is valid for up to 15 days. The trip takes approximately 35 minutes. The bus has 3 stops along the journey before reaching Plaça de Catalunya or Catalonia Square. This is the central area of Barcelona which is very close to La Rambla the famous tree lined street connecting Plaça de Catalunya to the Columbus monument. At Plaça de Catalunya you'll find Catalunya Metro station where you can get a train to your hotel or take a taxi from here. You could also walk to your hotel if you're up for it and it's not too far!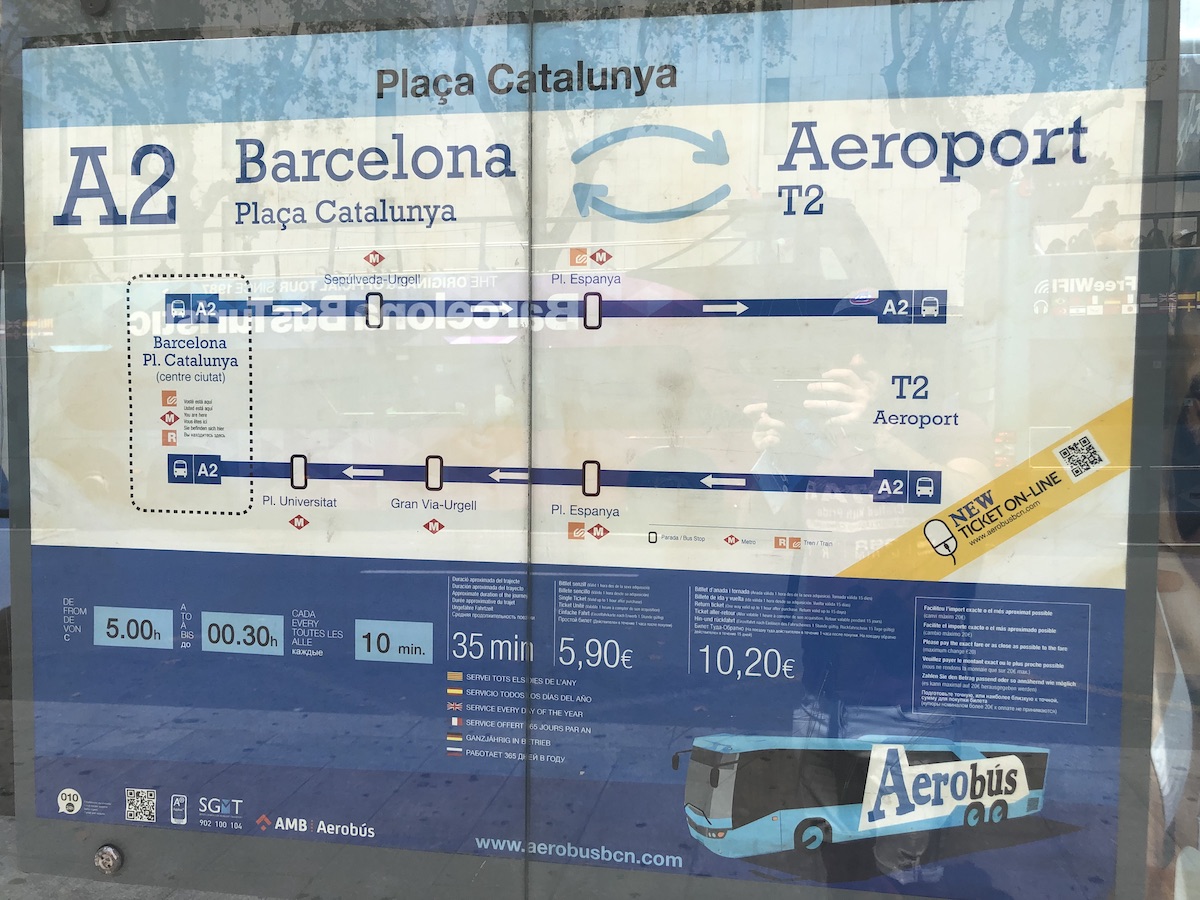 When does the Aerobus depart?
Barcelona (Plaça de Catalunya) to Airport (T1)
| | |
| --- | --- |
| Between 5am and 6.40am | Every 10 Minutes |
| Between 6.50am and 9:45pm | Every 5 Minutes |
| Between 6.50am and 9:45pm | Every 5 Minutes |
| Between 9:50pm and 12:30am | Every 10 Minutes |
Barcelona (Plaça de Catalunya) to Airport (T2)
Between 5am and 12:30am
Every 10 Minutes
Where do you buy your tickets?
You can buy your tickets directly with the bus driver. Alternatively you can buy your tickets in advance via www.aerobusbcn.com and showing the driver your QR code on your phone.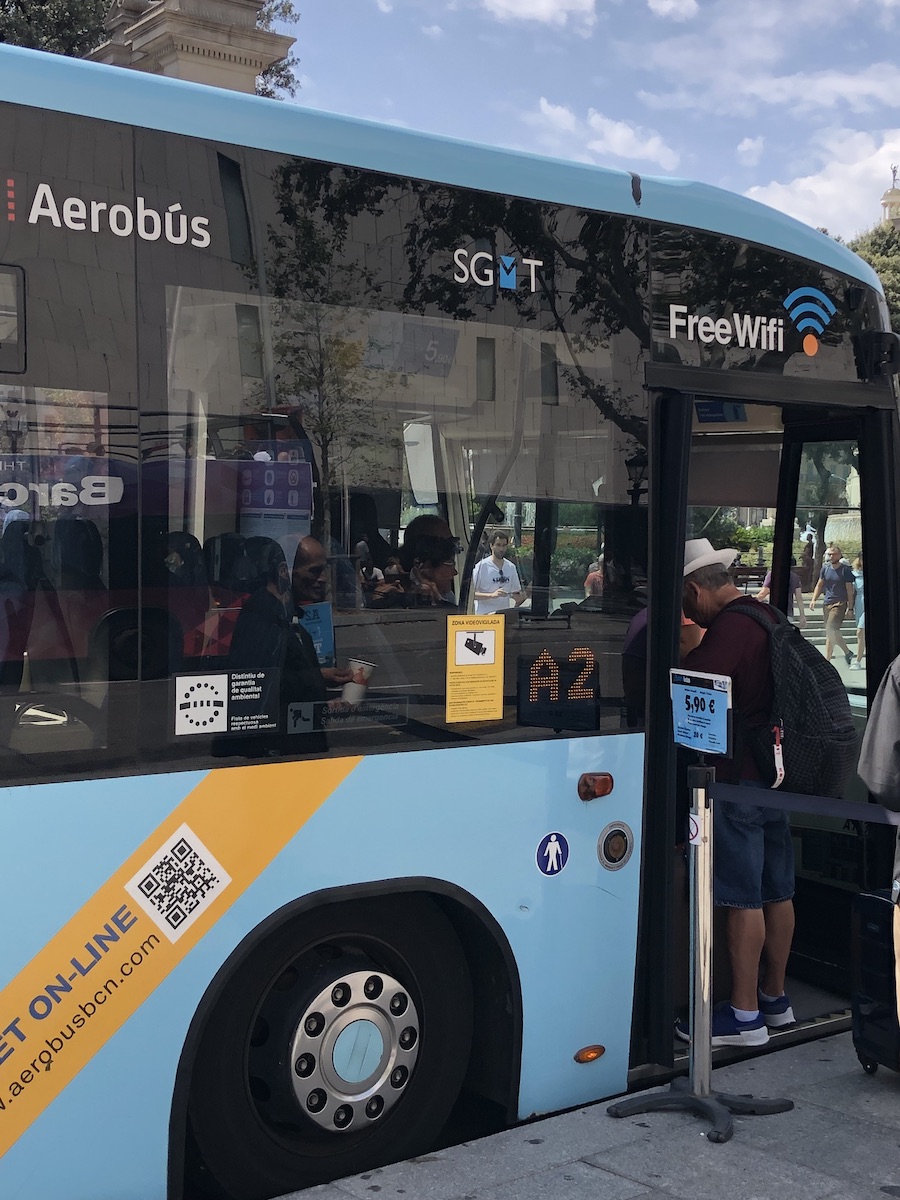 Also as an added bonus for travellers on a budget, you'll also get Free Wifi onboard!
Barcelona Airport to the city by Taxi
Taxi's are a great option if you're travelling in a group or you don't car about the expense. They're also a fast efficient way of getting you from A to B however you may get stuck in traffic which can be heavy in Barcelona. A taxi from Barcelona airport to central Barcelona takes approximately 30 minutes and will cost you around €30 - €40 depending on your hotel location. Taxis are clean and drivers are friendly. The Taxis are metered and your fare will depend on the distance and traffic. There are taxi stands located outside both Terminals 1 and 2 - follow the signage within the airport terminal for the exact location.
Barcelona Airport Car Rental
Car rental in Barcelona is another fast way to get from the Airport to the city. Booking online before you arrive is the easiest option and will ensure your vehicle will be ready and waiting by the time you arrive. Simply show your voucher to the rental car desk, along with your drivers licence and any other forms of identification and you'll be out of the airport within minutes! You'll need to supply a credit card as a security authorization for the period of your rental.
If you're undecided where you're going to be driving to, make sure you take note of the mileage limitations that may be associated to your booking. Also those wanting to cross the border into France, or Portugal will need to take note of any restrictions within the terms and conditions.
You'll find the rental car desks by following the instructions on your voucher and the signage within Barcelona Airport. In Spain you'll be driving on the Right Side of the road.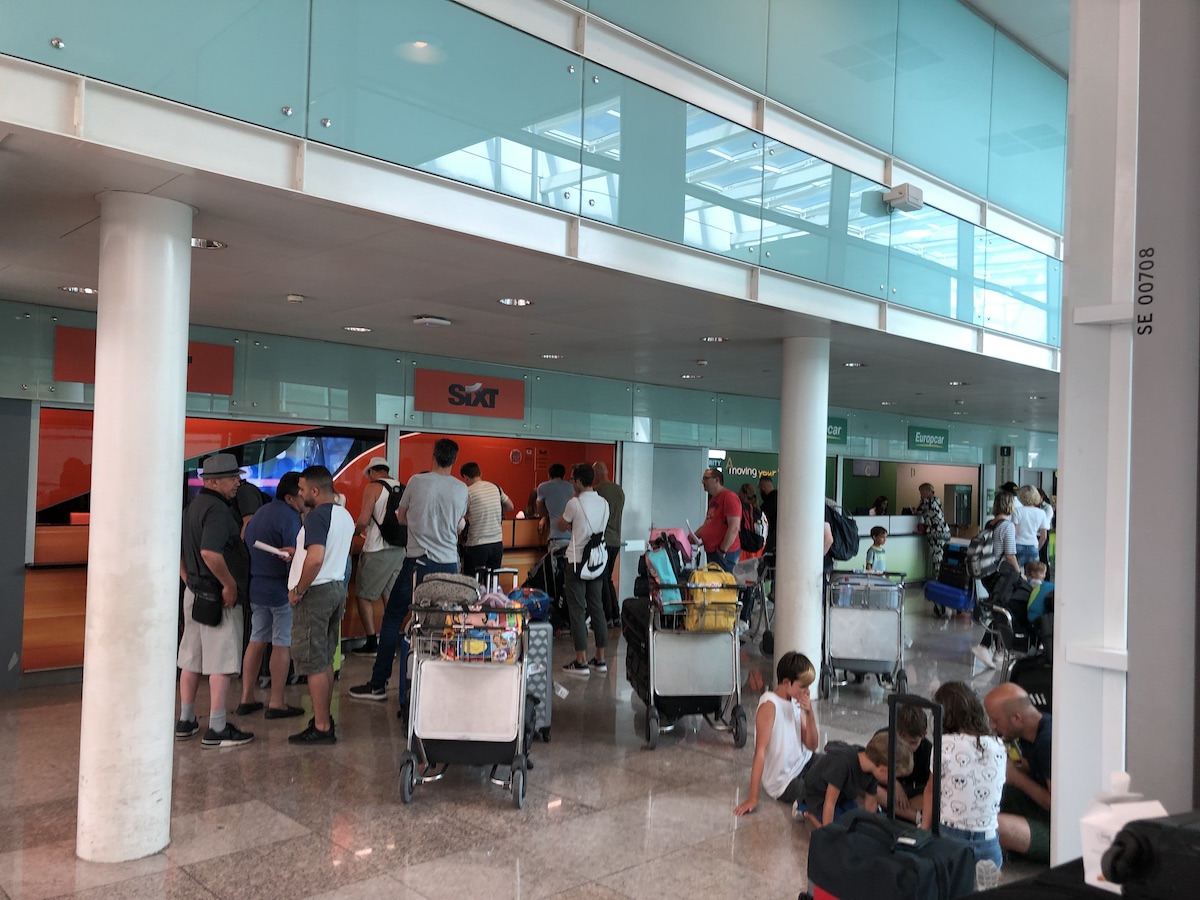 Enjoy your trip to Barcelona!!! It's a beautiful city you won't be disappointed.
Search for Vehicles >>