12 Seater Minibus Hire & 17 Passenger Vans for Rent
12 Seater Minibus hire is sometimes difficult to find as there is always a demand for these types of vehicles for tour operators, large groups, parties and family outings.
Our range of 12 passenger minibuses & 17 seater vans differ throughout the world, with different makes and models available to suit your needs. You need to think about what size vehicle you require and possibly how many vehicles you require due to limitations on passenger numbers and luggage requirements. If you have twelve passengers for example, but each passenger has for example two suitcases each, then you will definately need more than one minibus as there will not be enough room to fit 24 suitcases within a twelve passenger minibus.
So, what types of minibuses do we have in our range? The answer is - Lots! Below are some examples of the types of vehicles we have throughout the world: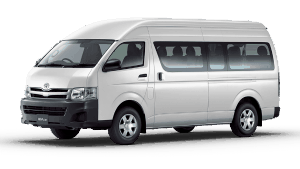 Toyota Commuter
Usually available throughout parts of Australia and New Zealand
12 Passenger , 6 Luggage , 4 Doors, Automatic Transmission, Air conditioning
Passengers will be very comfortable in the Toyota Commuter bus range. The minibus is equipped with large windows, generous legroom, air conditioning, and very comfortable seating. These reliable vehicles are equipped with airbags for driver and front seat passengers and seatbelts for all passengers. They are efficient with low running costs to save you money on fuel for your journey. The driver seat is extra comfortable so that the most important person in the minibus is looked after to keep all passengers safe. These twelve seat minibuses would be suitable for school groups, wine tours, parties, local and international tour groups, conferences or ferrying guests from airports to hotels and accommodation or transporting corporate clients.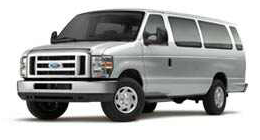 Ford Clubwagon Minibus
Available throughout USA and Canada
12 Passenger , 6 Luggage , 4 Doors, Automatic Transmission, Air conditioning
First introduced by Ford in 1961, the Club Wagon has been sold over six million times. That's alot of Ford Clubwagons! These 12 seater van rental vehicles are the most popular American commuter vans on the road. With 4 doors, and enough room for up to 15 passengers, these air conditioned vans are suitable for all requirements for transporting passengers in comfort.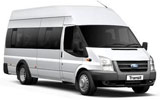 Ford 17 Seater Minibus
Available in the UK, Wales, Scotland and Ireland
These 17 seat minibuses are available in the UK and would easily be suitable for someone requiring a 12 Seater Minibus at a 17 seater minibus price! Enough room to carry various size groups and their luggage, you can be assured this vehicle would be suitable. These vans also sometimes come in an optional "high roof" which would enable your passengers to sit comfortably - especially if you are transporting athletes or sportsmen who are particularly large in size and stature!
Key features:
Seating for 17 people (including driver)
Dual front passenger seat
Second row dual seat
Third, fourth and fifth rows, dual seat and single seat
Sixth row dual/single seats
Length 6403mm
Width 2084mm (with mirrors)
Search for Vehicles >>